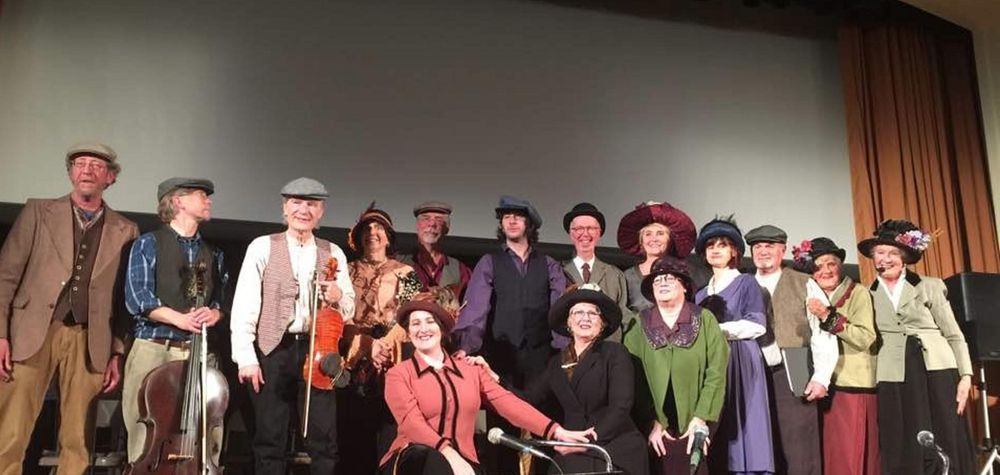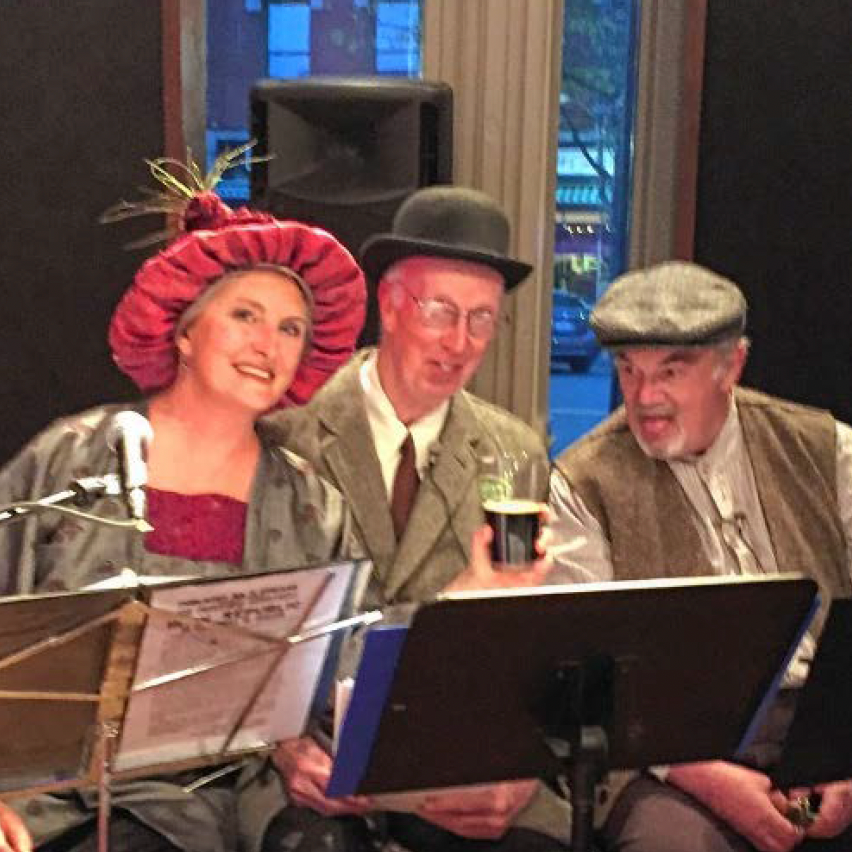 1916 Easter Rising
Review by By DIANE BRONCACCIO Recorder Staff
Irish concert recalls uprising (November 2016)
Photo: l to r: Marina Goldman, John Reese and Michael Haley 
At a time in our own history when election rebellion is in the air, Rosemary Caine's Wilde Irish Women
will present "The 1916 Rising Commemorative Concert" Saturday night, 7:30 p.m., in Memorial Hall, 51
Bridge St. in Shelburne Falls.
With song, music, stories and images, a cast of actors and musicians will tell the story of the
unsuccessful "Easter Rising," an Irish armed rebellion against British rule that ended in tragedy, but
set the stage for the Irish War of Independence.
This ensemble performed the concert on the exact centennial date, April 24, this year at The Arts Block
in Greenfield to a sell-out crowd, then gave an encore performance that also sold out.
Caine said this will be the last performance within the 100th anniversary year.
"I've been surprised by how well it's been received," said Caine, a Greenfield resident and Ireland
native, who put the show together. "There's a lot of people with more than a dribble of Irish blood," she
said, but people of non-Irish descent attended the performances as well.
"They weren't trained fighters, but poets and scholars who took on the British Empire," said Caine, who
plays the harp and even owns her grandmother's harp from the 1880s.
She said the uprising came at a time when it was illegal to speak Irish, or even to play the harp,
because the British wanted to stamp out Irish culture. "They used to hang harpists and pulled their
fingernails out," she said. "People got the death sentence for playing the harp."
About 400 people died in this uprising, which the British quelled within a week. And although relatively
few Irish participated in this revolt, the execution of its leaders and arrests by the British of thousands
of people galvanized support for the separatist Sinn Fein republican party.
The narrators include: Marina Goldman, Michael Haley and John Reese. The Wilde Irish Women are:
Joan Haley, Moe McElligott, Ann Steinhauser and Brooke Steinhauser. And the musicians are: harpist
Rosemary Caine, Chris Devine on the violin, guitar and pennywhistle; Sean McMahon on guitar;
Michael Morgan on piano and guitar, Robin Pfoutz on cello, and Cyd Reiman on bodhran and percussion. 
Music of the period will be played, including "The Foggy Dew," which is about the uprising, and "And
the Band Played Waltzing Matilda," which Caine termed "the best anti-war song ever."
Two songs will be performed in Irish. Tickets are $20; $17 for seniors and students. They may be
purchased from World Eye Bookstore in Greenfield or from Boswell's Books in Shelburne Falls.