"

..a delightful evening of music, dance, poetry and Irish humor..." - Joan Mento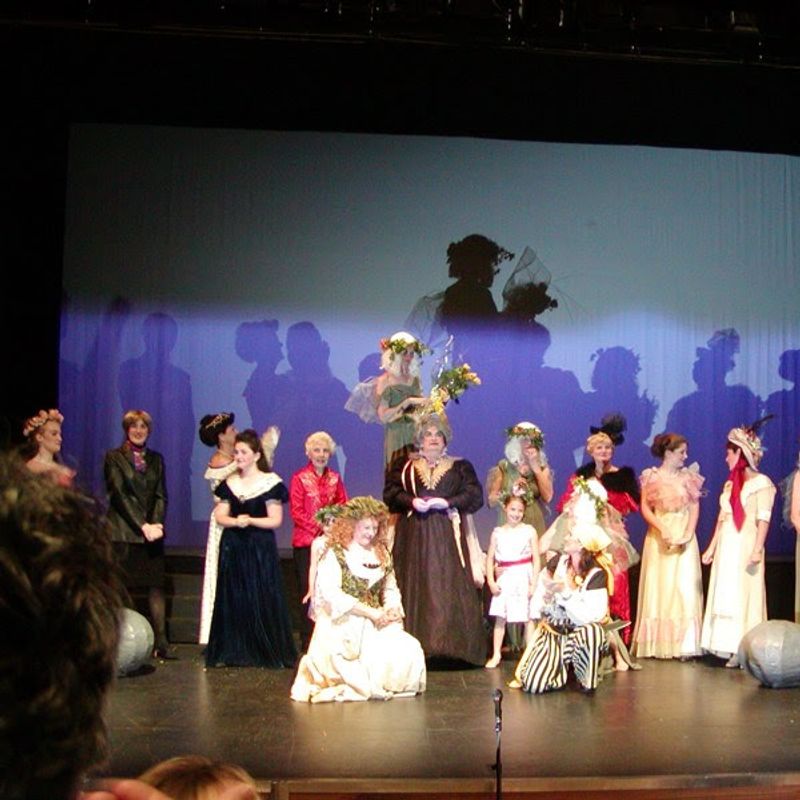 Wilde Irish Women
The Original Show
Photo of the Cast of the Wilde Irish Women performing in Dundalk, Ireland.
From the Union News Newspaper
Although it has been Irish men - such as Michael Collins, James Joyce and William Butler Yeats - who have been the subject of song and statue, it's been the spirited Irish women behind the scenes that have often held the culture together.    
  This is partially the theme of a new musical, "Wilde Irish Women (of Literature and Legend)" by Rosemary Caine, an Irish native and current Franklin County resident. The play will come to the Northampton Center for the Arts tomorrow at 8 p.m.    
  The play centers on a half dozen or so women who have figured prominently in Irish culture, whether they be historical or fictional characters. The scenes are set in the salon of Lady Jane Wilde, the flamboyant mother of Oscar Wilde. Caine got the idea from a book of a similar title, "Wild Irish Women: Extraordinary Lives from History" by Marian Broderick.    
  "The book has 75 short essays about Irish women and puts them into categories, some well-known and some who aren't known at all," Caine, who is also an accomplished harp player, said. "I chose ones that had a certain kind of spirit and to whom I had a visceral or geographic connection from my childhood."    
  The characters Caine selected for her musical cover a wide range of Irish women. From mythic figures such as Queen Maeve to more modern revolutionaries such as Maude Gonne, the one thing they all have in common is a seemingly indomitable spirit - one that couldn't be tamed even by a patriarchal society.    
  "I chose women with great resonance in modern Irish folklore," Caine said. "Take Maude Gonne for example. She was a revolutionary herself, but she also inspired Yeats' poetry through the unrequited love he had for her."    
  Caine even received permission from Michael Yeats, the poets only living child, to use his poetry in the play.    
  "Luckily, I had a link to the Yeats family. I had gone to a school where Yeats' daughter -in-law was the head of the school," she said. "So with great generosity, Michael Yeats said we could use the poems, as long as it wasn't for commercial purposes."    
  The troupe recently performed at the Maytime Festival in Dundalk, Ireland. The writer cautioned the Americans in the cast not to try to fake Irish accents. Over here in America, she will allow them a little leeway, however.    
"Over there I advised them not to try it, but as long as it doesn't sound like an Irish Spring commercial, we'll let it go here," she said with a laugh.    
  Caine said in Ireland they were greeted with "a full house and a standing ovation, so I guess the audience loved us."    
  The cast includes several Irish natives and some of the best-known actors in Western Massachusetts. While these are mostly women, the main role, Lady Jane Wilde, is played by Michael Haley. Haley has had parts in films such as "A League of Their Own" as well as co-producing the award-winning HBO hit "Angels in America." He recently also co-produced the film "Closer" filmed last winter and starring Julia Roberts and Jude Law.    
  Caine acknowledged her cast's involvement as a crucial factor in bring the play to fruition.    
  "It never would have taken place without the collaboration of the cast," she said. "They were tremendous."
Praise for the show "Wilde Irish Women"